[ad_1]

The funding comes from Alberta's carbon levy on large industrial emitters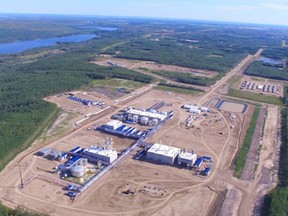 Article content
Nearly a dozen carbon capture projects from Alberta's oilpatch and industrial sectors will receive an injection of cash from the provincial government aimed at accelerating the deployment of more than $20 billion in capital spending on emissions reduction.
Article content
Emissions Reduction Alberta (ERA) announced this week it would provide more than $40 million to 11 carbon capture utilization and storage (CCUS) projects across the province through its Carbon Capture Kickstart fund.
"What we're really trying to do is catalyze a lot of the technical work that needs to be undertaken (to) actually see carbon capture technologies deployed," ERA CEO Justin Riemer said in an interview with the Financial Post.
"What's exciting about this is that there are a range of sectors that are taking advantage of this opportunity and pursuing plans for Class 3 (cost estimates) and Class 4 feasibility studies to assess the readiness for carbon capture in the energy sector, oil and gas, oilsands, fertilizer sector, cement (and) electricity."
Article content
Among the recipients of the funds are energy producers, including a consortium of oilsands companies proposing a major trunkline and carbon sequestration hub, as well as individual carbon capture projects from Suncor Energy and Strathcona Resources. Funds will also go to projects proposed by Enmax, Lafarge Canada and Nutrien.
The funding comes from Alberta's carbon levy on large industrial emitters. Five of the projects will also receive additional funds from Natural Resources Canada to advance engineering and design work.
The cash boost is part of a suite of recent government announcements — including the federal government's new investment tax credit for carbon capture — aimed at pushing companies to reaching the point of making a final investment decisions sooner when it comes to carbon capture.
Article content
Experts say there's no time to waste if Canada's large emitters are to meet the daunting greenhouse gas targets laid out in the latest federal emissions reduction plan. Those include a requirement that Canada's oil and gas sector achieve a reduction of 31 per cent from 2005 emissions levels over the next eight years.
The speed at which some large emitters are now pursuing carbon capture came as a surprise, said ERA executive director Justin Wheler. First-generation projects in Canada such as the Shell Quest carbon capture project, or SaskPower's Boundary Dam carbon capture project took seven to 10 years to get up and up and running.
"(These latest projects) are targeting getting these facilities done in half the time (and) the only way to do that is to start today on the detailed engineering and economics," Wheler said. "That's why I called it a kickstart: it's a small amount of money in the grand scheme of things, but it's really targeted at getting getting people moving today."
Article content
Still, the projects are extraordinarily expensive and face an existential risk in the form of the political uncertainty around carbon pricing in the future.
The Pathways Alliance — formerly known as the Oilsands Pathways to Net Zero alliance — is in the early stages of evaluating a massive $46.33-million investment in a carbon capture project in northern Alberta.
The proposal involves 11 separate projects tied into a pipeline that would carry carbon to a sequestration hub. The group — comprised of Canadian Natural Resources, Cenovus Energy, ConocoPhillips Canada, Imperial Oil, MEG Energy Corp. and Suncor — will receive $5 million from the Kickstart fund to help advance engineering on the project that could capture around 12 million tonnes of emissions a year in its first phase.
Kendall Dilling, president of the Pathways Alliance, said the energy sector is cognizant of the need to get moving on projects if it is to maintain the goodwill of governments and Indigenous communities.
"The Pathways (Alliance)'s raisons d'être is to do stuff. To get steel in the ground, to get building (solutions) to address our greenhouse gas emissions," Dilling said. "There's only so long that you can plan and talk and design. It's important to get to execution."
• Email: mpotkins@postmedia.com | Twitter: mpotkins


[ad_2]

Source link