Things may get a whole lot tougher for New Zealand's governing Labour Party after Prime Minister Jacinda Ardern declared she won't lead it into this year's election.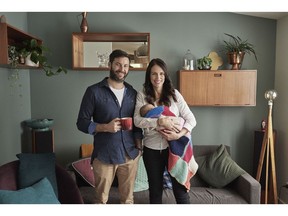 Article content
(Bloomberg) — Things may get a whole lot tougher for New Zealand's governing Labour Party after Prime Minister Jacinda Ardern declared she won't lead it into this year's election.
Article content
The center-left party's chances of winning a third term were already in doubt as it trailed the main opposition National Party in opinion polls. But as long as Ardern was leader there was an expectation her political experience and communication skills could close the gap and test National's Christopher Luxon, who has been in parliament for less than three years.
Article content
Labour's aspirations were dented when Ardern, 42, announced yesterday she didn't have the energy to continue as leader. With an election scheduled for Oct. 14, Labour has nine months to convince voters it deserves to be returned at a time when the economy is forecast to enter recession and issues like law and order are increasingly worrying the community.
Article content
"Things were looking very tough for Ardern and Labour and that has to be a big part of the puzzle for why she's left," said Bryce Edwards, a political analyst at Victoria University of Wellington. "There is a sense of a hospital pass being given to her colleagues because she still was the party's and the government's best asset, and some people believed she was going to best Christopher Luxon on the campaign trail."
Despite her party losing popularity, Ardern remained the country's most-preferred prime minister in recent polls, even though her rating has halved from more than 60% in 2020.
Jacinda-Mania
Labour supporters will cast their minds back to 2017, when the party was polling poorly in opposition against a National Party seeking a fourth term. Ardern, then a low-profile politician, was fast tracked into the leadership and rejuvenated the voter base with the promise of generational change. 
Article content
The buzz around Ardern — dubbed Jacinda-Mania — translated into enough votes for her to form a coalition government and become the world's youngest female leader at the time at the age of 37.
Labour's caucus will vote on a new leader on Jan. 22 and if a candidate receives two-thirds support then the country could have a new prime minister as soon as next week. Otherwise, the decision will pass to the wider party membership with a final vote expected by Feb. 7.
Without Ardern, Labour may find it harder to campaign on its credentials as a safe pair of hands in times of heightened uncertainty. 
Her ability to connect with voters, particularly women, and her track record as a skilled crisis manager — leading the country through a terrorist attack in 2019 and then the pandemic — would have made her a formidable opponent.  
Article content
"She's the crisis prime minister and I think she will go down in history as a great prime minister for that," said Lara Greaves, a political scientist at the University of Auckland. 
"She was also the first prime minister to have a baby while in office and only the second female world leader to do so. I think that's deeply meaningful for a lot of parents, a lot of mothers, a lot of women, and people generally who are trying to juggle a lot of things in their lives."
Change of Fortunes
At the 2020 election, Ardern stormed to a landslide victory as voters lauded her management of Covid-19, successfully eradicating the first wave of the virus from the community with one of the strictest lockdowns in the world. Labour secured the first outright majority under New Zealand's electoral system of proportional representation, introduced in 1996. 
Article content
But the government's ongoing use of lockdowns in 2021 and the closed border soon began to rankle, particularly as they ultimately failed to keep Covid at bay. Now voters are focusing on the soaring cost of living and a darkening economic outlook. 
Ardern's successor will take over a government under some pressure. A 1News/Kantar poll published last month showed Labour on 33% support, five points behind National on 38%. National's ally the ACT Party had 11% support, which would give the pair a parliamentary majority if the results were replicated at the election.
Read More: Meet the Ex-Airline Chief Seeking to Become New Zealand's Next PM
Ardern's departure could further erode support for Labour because it "will be seen as a vote of no confidence in her own government being re-elected," said Edwards.
Article content
Potential contenders for her replacement may include Education Minister Chris Hipkins, Housing Minister Megan Woods, Foreign Minister Nanaia Mahuta, Justice Minister Kiritapu Allan and Immigration Minister Michael Wood. 
Deputy Prime Minister and Finance Minister Grant Robertson, a close ally of Ardern's, said he will not stand.
To be sure, analysts said there's a chance that the change in Labour's leadership could revitalize the party and bolster its chances of winning re-election.
"There's a possibility of a fresh start," said Greaves. "But I think a lot of people would be surprised if Labour wins the next election."