Banks are making staggered progress, with grades ranging from a high of B- to a low of D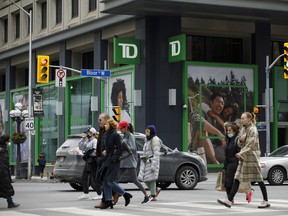 Article content
Policy differences are emerging among Canadian banks when it comes to their net zero commitments, according to an advocacy group that scored progress of the six largest banks on factors including targets for reducing the carbon emissions they finance through loans and underwriting.
Article content
Investors for Paris Compliance, which says it represents high-net-worth individuals and foundations and sometimes buys shares in companies in order to engage with them to "improve accountability," planned to issue a report card Wednesday that showed the banks are making staggered progress, with grades ranging from a high of B- to a low of D in various categories.
Article content
The advocacy group gave Toronto-Dominion Bank a grade of B- for financed emissions reduction targets, the highest among the big banks in that or any other category. Bank of Montreal, meanwhile, scored highest of the group for its transition plan to reduce high-carbon financing, especially of fossil fuels, with a grade of C+.
The report card, which also assessed the six largest banks' interim emissions reduction targets for oil and gas and for power, acknowledged that achieving top grades would require more than is being demanded by regulators or set out by industry groups such as Partnership for Carbon Accounting Financials (PCAF), an international consortium formed to help banks measure financed emissions to "manage risk and identify opportunities" associated with greenhouse gas emissions.
Article content
For example, PCAF requires financial institutions to report end-use emissions stemming from their lending activity to the oil and gas sector, known as scope 3 emissions, but it won't be required for additional sectors until 2024 or later.
Matt Price, director of corporate engagement at Investors for Paris Compliance, said banks make decisions about what to include when calculating their overall exposure to emissions, and noted that TD is exceeding PCAF criteria in some areas, such as by including fully committed loans rather than just those that have been drawn.
"TD reports financed emissions associated with its total committed loans and for its underwriting activities," the report said. "In doing so, TD reports on more financing activities than any of its peers."
Article content
Once exposure to emissions via financing activities is established, banks look at reducing that exposure, which triggers "a bunch of decisions on how to set those targets," Price said.
To achieve an A in the area of financed emissions from investors for Paris Compliance, banks would have to track and report comprehensive emissions across all their portfolios and geographies — and report them in absolute terms rather than by intensity, the latter of which can be reduced even if overall emissions increase. A top score would only be given if all committed loans and underwriting activity were included, and if the disclosure and reduction targets covered financing activities across and beyond the bank's power and energy portfolios.
Article content
"At a minimum, emissions reporting should align with Partnership for Carbon Accounting Financials (PCAF) methodologies," the advocacy group said in its report, noting that capital markets activity — including equity and bond underwriting and project finance — is expected to be included down the road.
The uneven nature of the progress across Canada's financial sector is perhaps not surprising, with the banks' own chief regulator, the Office of the Superintendent of Financial Institutions, not planning to finalize guidelines for managing and disclosing risks related to climate change until next year — including those related to financed carbon emissions.
Nevertheless, OSFI noted last summer, the banks have begun to quantify and manage some risks.
Article content
In addition to the wait for regulatory clarity, a lack of available comparable and universally accepted data for monitoring risks and setting targets has meant the banks are rolling out "decarbonization" approaches in stages, Michael Torrance, BMO's chief sustainability officer, said in an interview last summer. He noted that BMO had chosen to focus on power generation and transportation in the first phase, while other banks took different approaches.
Asked about third-party assessments such as the one done by Investors for Paris Compliance, a spokesperson for Bank of Montreal said it is the bank's policy not to comment on any single analysis.
Article content
"While we wouldn't comment on individual organizations, we value engagement with investor groups in sharing perspectives on these important topics," said Kelly Hechler.
A spokesperson for Bank of Nova Scotia said the bank is committed to "defined and measurable targets for reducing emissions" and is working alongside other financial institutions through groups such as the Net-Zero Banking Alliance to set "credible, robust" targets for financed emissions associated with lending and investment activities.
"Our approach to assisting our clients with their transition to a low-carbon economy is consistent with the direction provided by the NZBA," said Katie Raskina.
Royal Bank referred comment on the Investors for Paris Compliance report card to the Canadian Bankers Association, which said the industry group's members "acknowledge that firm commitments are required" to meet Canada's goal of a net-zero economy.
Article content
"That's why banks in Canada have begun implementing climate action plans that set specific targets, including emissions reduction targets, to meet the demands of this global challenge," the CBA said in an emailed statement. "To be sure, banks will continue to work with their clients across industries to help them transition to a more sustainable future."
A spokesperson for National Bank of Canada declined to comment on the report card, and officials at TD and Canadian Imperial Bank of Commerce did not respond immediately to requests for comment from the Financial Post.
Investors for Paris Compliance, which made climate-related shareholder proposals last year at the annual meetings of RBC and Enbridge Inc., has received funding from foundations including The Trottier Family Foundation and the Sunrise Project, an Australia-based network committed to the transition from fossil fuels to clean energy.
• Email: bshecter@nationalpost.com | Twitter: BatPost