China, which operates more than half of the world's large-scale EV battery factories, ranked No. 1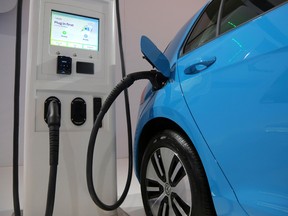 Article content
Canada fell five spots in an index that rates how prepared nations are to bring electric vehicles (EV) into their economies, despite a notable increase in government efforts to develop the sector in the past year.
Article content
The country ranked 13 out of 14 countries, compared to eighth last year, in the latest EV Readiness Index, an annual analysis conducted by global accounting firm EY that assesses nations based on their supply, demand and policies for EVs. China, which operates more than half of the world's large-scale EV battery factories, ranked No. 1.
Article content
Canada is trying to accelerate its goal of creating an EV battery eco-system on home soil. Last month, it signed MOUs with automakers Volkswagen AG and Mercedes-Benz AG to promote EVs. Earlier this year, it inked deals with Umicore SA, Stellantis NV and LG Energy Solution Ltd. to build cathode and battery factories.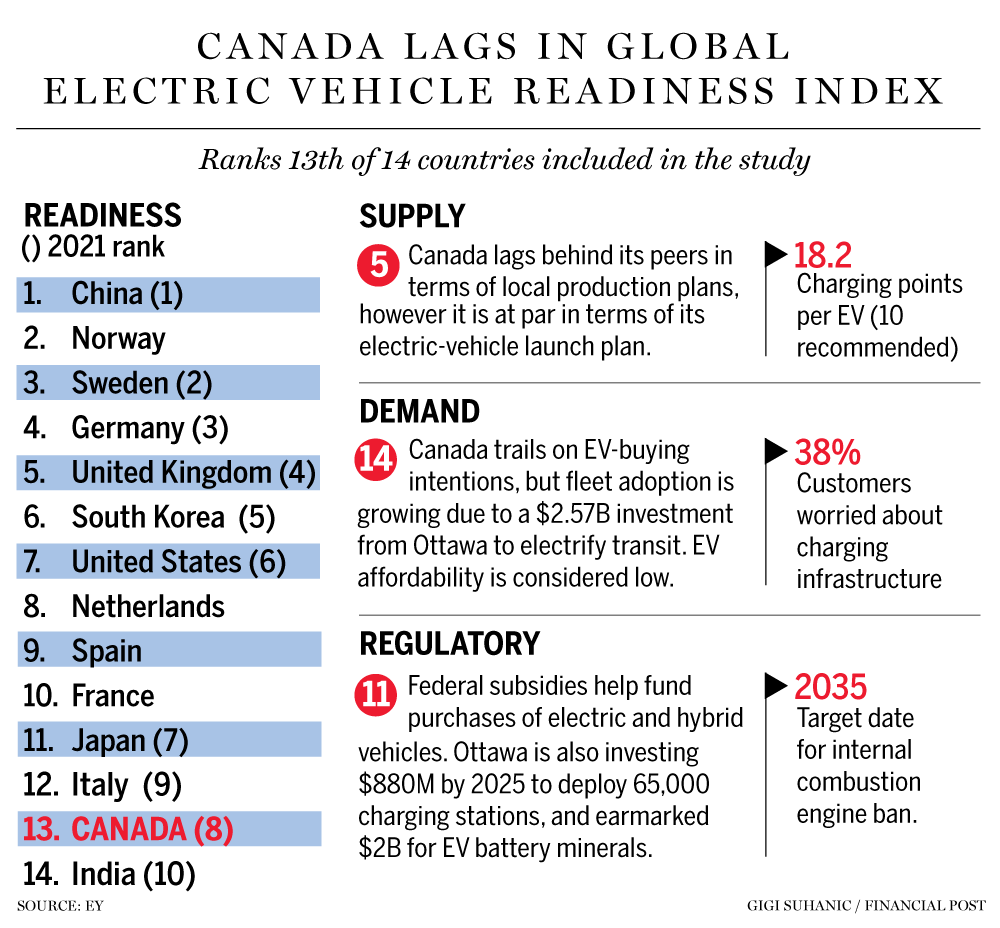 "We have had all these great announcements, but so has the rest of the world, and they have done more," Lance Mortlock, EY Canada Energy's managing partner, said. "It might feel like, why have we gone down? Other countries in terms of their infrastructure and investments, policies and regulations, have added to a greater extent than Canada."
Article content
The demand for EVs, which require batteries sourced from critical minerals such as lithium, has increased in recent years as the world tries to decarbonize. Canada, which is rich in battery metals and allocated a record $3.8 billion in its 2022 federal budget to create a steady flow of them, is looking to build an industry to take advantage.
The country is also hoping to benefit from the recently passed Inflation Reduction Act in the United States, which provides tax credits for EVs that either source their critical minerals from North America or are assembled in the region.
EY believes that Canada's launch plans for EVs are on par with its peers, with companies such as Tesla, Inc. Stromvolt Americas Inc. and LG Corp. building factories to make batteries here, but it's lagging in local production plans, infrastructure and consumer demand.
Article content
About 46 per cent of Canadians said they would prefer to buy an EV for their next purchase, according to a different survey linked to the EY index this year, which is 11 per cent higher than in 2021, but lower than the global overall average of 52 per cent. The study included about 13,000 respondents from 18 countries.
More than one in three Canadians have deemed the upfront purchase cost and the lack of charging stations on travelling routes as the biggest "inhibitors" to purchasing EVs.
Environmental concerns remain a top reason for consumers to buy EVs, but more than one in three Canadians are looking to shift to EVs due to the rising gas prices for conventional vehicles that run on internal combustion engines (ICE), which are set to be banned by 2035.
Article content
China's top ranking was due to its "robust battery manufacturing, mature charging infrastructure, strong policy support and strong consumer acceptance of EVs," EY said.
Norway, which has the highest penetration of EVs among the countries in the index — more than 70 per cent — and aims to ban the sale of ICE vehicles by 2025, was ranked second.
The United States was ranked seventh, mostly due to poor consumer interest in EVs — the lowest among the 14 countries. However, its new EV tax credit worth up to US$7,500 and investments in the battery sector gave it a spot in the top 10.
• Email: nkarim@postmedia.com | Twitter: naimonthefield