[ad_1]

Company has spent more than $1 billion on share buybacks this year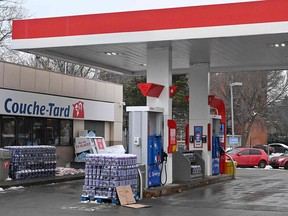 Article content
Laval, Que.-based Alimentation Couche-Tard Inc., which oversees a global network of convenience stores and gasoline stations, reported net earnings of US$810 million in its most recent quarter, a nearly 17 per cent increase from the same period a year earlier, mainly due to the higher price of fuel.
Article content
"We are pleased to report strong results this quarter, especially in the face of the continued challenges of high inflation, energy and fuel prices across the global economy," said chief executive Brian Hannasch in a press release that was issued after markets closed on Nov. 22.
Article content
Here's what you need to know about Couche-Tard's earnings for the three-month period ending Oct. 9, 2022:
Financials
Couche-Tard, which operates more than 14,300 stores in 24 countries and territories, led by its Circle K brand, reported revenue of US$16.9 billion, an 18.7 per cent increase from the same period in 2021. The gain was mostly the result of higher gasoline prices, as earnings from "road transportation fuel," which represents about 75 per cent of the company's income, jumped 24.3 per cent on the year. Revenue from merchandise was only 2.3 per cent higher, as an increase in sales in the United States offset declines in Canada and Europe.
Article content
Diluted net earnings per share amounted to 79 U.S. cents  per share, compared with 65 U.S. cents per share in the same quarter last year, a gain that chief financial officer Claude Tessier attributed to "strong" gross profit margins and "cost optimization initiatives," which Tessier said have helped "mitigate" the effects of higher inflation.
Couche-Tard also repurchased shares worth about US$205 million in the quarter, taking its share-buyback total over the first half of the fiscal year to about US$683 million. Since the end of its second quarter in early October, the company said it has repurchased shares worth about US$396 million, meaning Couche-Tard has spent more than US$1 billion on share buybacks so far in the current fiscal year. The company also increased its dividend by 27 per cent, to 14 cents per share.
Article content
Gross profit, which the company describes as a good way to gauge underlying strength of its business, increased 10.5 per cent from a year earlier, to US$2.9 billion, as a 33.6 per cent surge in gross profit from fuel sales in the United States outweighed declines in the return on fuel in Europe and on merchandise in Canada and Europe. (Gross profit subtracts the cost of sales, excluding depreciation, amortization and impairment from revenue.)
Actual profit as measured by net income increased 16.6 per cent. The company had an EBITDA of US$1.4 billion in the second quarter, a 13.7 per cent increase over the corresponding quarter last year.
Shares were down 1.68 per cent at $60.40 in morning trade on Nov. 23.
Backstory
Article content
Couche-Tard's stock price is up about 60 per cent since it aborted its attempt to buy France's Carrefour SA in January 2021, a vote of confidence in a company that generates steady revenue by selling gasoline and convenience food through a global network of 14,000 stores. Inflation hasn't even really slowed it down, as sales of the company's in-house brand spiked over the summer as customers sought "value."
Still, Couche-Tard, which quietly ranks among Canada's biggest companies, appears unsatisfied. The attempt to purchase Carrefour hinted at great ambition, as Hannasch has made clear that he wants the company to be less reliant on fuel sales, which currently supply half its gross profit. Hannasch appears to see opportunity in luring more customers into its stores with fresh food, going so far as to use food trucks to advertise that Couche-Tard's Circle K stores offer more than pop, chips and chocolate bars.
Article content
At the same time, Couche-Tard continues to innovate in anticipation of potentially existential threats in the form of chronic labour shortages and the transition to greener fuel. Earlier this year, the retailer said it would implement 10,000 self-serve cash registers over three years at 7,000 Couche-Tard and Circle K stores. Management said in a press release that 1,000 units had been rolled out so far.
The company also announced this week that its fleet in Ireland would be powered by Vegetable Oil (HVO) renewable diesel by early 2023.
Operations took a hit during the quarter, when Hurricane Ian swept through the U.S. The category four storm affected Couche-Tard locations in Florida, the Atlantic states, and the Carolinas, forcing the closure of 500 stores.
Article content
Where Couche-Tard goes from here
Couche-Tard, Canada's fourth-biggest company (according to the Financial Post's 2022 FP500 ranking), is in solid shape, thanks to geographic diversity and surging prices for the product that accounts for most of its revenue.
The volume of fuel sales was down, management said in a call with investors Wednesday, but this was offset by fuel prices being higher than normal.
To be sure, things aren't entirely rosy, as diversifying away from its dependence on gasoline sales is proving difficult. Couche-Tard's 35 per cent stake in cannabis retailer Fire & Flower Holdings Corp. isn't going well, as the retailer was forced to record a $23.9 million impairment loss reflecting a drop in Fire & Flower's market value and extend the company a $8-million loan in the quarter.
Article content
However, any shareholders who feel stung by Couche-Tard's foray into cannabis, or who continue to lament the failed attempt to take over Carrefour, might be assuaged by management's apparent commitment to share a significant portion of its profits with investors through aggressive share buybacks and the dividend increase.
The company also continues to struggle with supply-chain issues. "Across the network, supply-chain issues are improving compared to previous quarters," Hannasch said on a call with investors Wednesday. "Although we certainly have pockets where it continues to be difficult."
Inflation is taking a toll, too. European operations are being severely impacted by rising energy costs, Hannasch said, while North American operations haven't really been affected. In response, the company is implementing energy-saving measures, such as unplugging unneeded equipment. "Will that mitigate everything? I think it depends how the winter plays out there," Hannasch said. He added that it is having a "material" impact on the company's bottom line, but "we view that as very transitory."
• Email: mcoulton@postmedia.com | Twitter: marisacoulton


[ad_2]

Source link