Bus and recreational vehicle makers are bringing more of their parts production in-house to combat supply chain snarls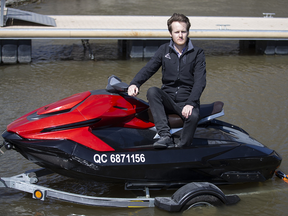 Article content
Prices for electric vehicles are nearing a "tipping point" where manufacturers will be able to build EVs that will cost less than gas-powered cars and trucks over their lifetimes thanks to government subsidies, an executive at Winnipeg-based bus maker NFI Group Inc. said.
Article content
"We've definitely seen the political will, and the political commitment there to help customers support the transition to EV," Stephen King, vice-president of strategy and investor relations at NFI, said this week at a clean technology conference in Montreal organized by National Bank. "Federal funding is critical for a lot of customers, and we're in an environment right now where funding has never been higher, so now demand has never been higher."
Article content
Canada and the United States are rolling out the red carpet for EV manufacturers. Canada's 2022 budget commits $1.7 billion to a program subsidizing zero-emission vehicles, while in the U.S., the Inflation Reduction Act aims to invest US$369 billion in clean energy and climate programs, providing new and expanded tax credits on electric vehicles.
Article content
But the funding comes with strings attached. For example, 70 per cent of NFI's bus components must be made in the U.S. in order to qualify for the subsidy, said King. These origin requirements, combined with persistent supply chain issues, are preventing EV manufacturers from getting the most out of government programs.
At one point, King said NFI had trouble finding everything from fibreglass, to metal, to even bus seats. Supply chains have "been absolutely brutal on our business in the last 18 months," he said.
There is evidence that supply bottlenecks are starting to ease. Companies stockpiled goods worth $46.8 billion in the third quarter, a record, Statistics Canada reported this week.
Manufacturers are rethinking their supply chains after two years of complications triggered by the pandemic. Some have tired of relying on third-party suppliers, Nicolas Brunet, chief financial officer (CFO) of The Lion Electric Co., another bus maker, said at the conference. "You end up paying a significant amount of margins to a third party to whom you're really captive, as a client."
Article content
Rethinking supply chains
To solve the problem, EV manufacturers are increasingly building parts in-house. Lion has started its own battery pack and module production, which "significantly de-risks the procurement aspect," Brunet said.
The shift suggests the return of "vertical integration," a strategy that was pioneered by Andrew Carnegie of the mammoth Carnegie Steel Company, now United States Steel Corp.
Carnegie owned every step of the manufacturing process: the iron mines that provided the key ingredient in steel, the coal mines that provided the fuel to create the steel, the railroads for transporting materials, and the steel factories themselves. That approach went out of fashion when globalization allowed factory owners to outsource production to lower-cost countries. The acute supply snarls of the past two years have caused companies to revalue the flexibility that comes with having greater control of the manufacturing process.
Article content
Sam Bruneau, chief executive of Taiga Motors Corp., a maker of electric snowmobiles and personal watercraft that was gearing up to make its first machines when the pandemic hit, said he had no choice but to adopt vertical integration from the start. As the first to enter the market, Taiga had to build its components from scratch, over the course of seven years of research and development.
"We've done everything from a clean sheet," Bruneau said. "We've designed, engineered, and produced everything in-house." Vertical integration tends to be faster, too, enabling the company to "drive improvements on a monthly basis," Bruneau said, instead of dealing with third parties who can take two or three years to develop a new technology.
Article content
While NFI Group still tends to partner with third parties, it has started to assemble some items in-house, including cells, modules and battery management systems. This helps the company to be flexible and "move with the market," King said.
"We're not out, collectively, of this supply chain crisis. I think we'll still see the effects of it throughout 2023," King said, "but I believe we'll come out of this a much stronger company from a supply chain and business-process standpoint."
Supply chains aside, the biggest challenge faced by EV manufacturers is something intangible, that can't be manufactured in-house: customers' mindsets. "I would say that our biggest competition is, by far, 'status quo'," said Brunet, the Lion CFO. "Change is always difficult, in any context."
• Email: mcoulton@postmedia.com | Twitter: marisacoulton
If you liked this story, sign up for more in the FP Energy newsletter.