[ad_1]

Ford said it will use lower performance batteries for select models in order to meet its electric-vehicle targets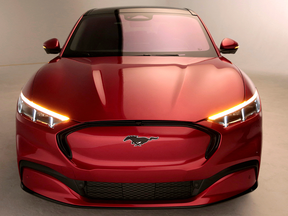 Article content
Ford Motor Co. said it will use lower performance batteries for select models in order to meet its electric-vehicle targets, the latest example of how global ambitions to cut greenhouse gas emissions are colliding with the reality of supply chain constraints.
Article content
The Detroit-based automaker currently offers two versions of the Mustang Mach-E and the F-150 Lightning — a standard version and a vehicle with extended range. The latter are powered by lithium-ion batteries that use the nickel, cobalt, and manganese (NCM) chemistry that has become an industry benchmark, and the standard versions use lower performance NCM batteries.
Starting in 2023 and 2024, the standard versions will be made with cheaper batteries, a second-best alternative that Ford's leaders decided was the best way to keep up with growing demand for electric vehicles.
Ford said on July 21 that it had struck an agreement to import lithium-iron-phosphate batteries from Chinese battery maker Contemporary Amperex Technology Co. Ltd. Those batteries are less energy dense, which means they provide a shorter driving range, but are more readily accessible because they contain neither nickel nor cobalt.
Article content
"Right now there are constraints in the supply chain … particularly around certain minerals," said Ford spokesman Marty Gunsberg. "Bringing on the second chemistry helps us break those constraints and that helps us bring more vehicles to market sooner."
Ford also announced that it now has agreements with various mining companies, including one to source nickel from Vale SA's Canadian unit, which operates in Ontario, Newfoundland and Labrador, and Manitoba. The company said it has sourced 70 per cent of the raw materials it needs for batteries to support annual production in excess of two million electric vehicles by 2026, citing agreements with BHP Group Ltd., Rio Tinto Ltd., and others.
Bringing in a second chemistry could be the difference between having access to an EV or not having access to an EV

Marty Gunsberg
Gunsberg said the decision to offer lithium-iron-phosphate batteries in some vehicles will allow Ford to meet its more immediate target of producing 600,000 electric vehicles by late 2023. Gunsberg declined to offer details on Ford's expected production or expected consumer demand for either battery chemistry.
Article content
Lithium-iron-phosphate batteries may cost 10 to 15 per cent less than the alternative, but it is unlikely to translate into a significant discount of the retail price, Gunsberg said.
Ford said it has plans to localize 40 Gigawatt hours per year of lithium-iron-phosphate capacity in North America.
"Bringing in a second chemistry could be the difference between having access to an EV or not having access to an EV," said Gunsberg, adding the cheaper battery may have less range, but is "highly durable" and "very tolerant of multiple charge cycles."
So far, most Western automakers have resisted lithium-iron-phosphate battery chemistry, in part because it offers lower driving range.  But the batteries are prevalent in China, where Tesla Inc. has sourced them from Contemporary Amperex Technology, as Ford is now doing.
Article content
The situation underscores predictions by analysts that many metals needed for an energy transition will face supply gaps in the coming years that will cause price inflation and even constraints on new technology.
Daniel Yergin, vice-president of S&P Global Inc., the research and data firm, published a report last week that suggested a looming supply gap for copper risks "short-circuiting" the energy transition.
Executives at mining companies have long been saying there could be critical supply gaps in nickel, cobalt and lithium.
Article content
Keith Phillips, chief executive of North Carolina-based Piedmont Lithium Inc., said he predicts the biggest shortage will be in lithium, which is needed for all battery chemistries.
Piedmont owns 25 per cent of Sayona Quebec, a subsidiary of Sayona Mining Ltd., which in June announced it would invest $80 million to restart a lithium mine in Quebec, and eventually hopes to open a refinery.
"The fastest thing to build is a car plant, next fastest is a battery plant, but the longest is the mine," said Phillips. "Every car company is spending billions of dollars" to build its electric vehicle and battery supply chain, and "I believe that five years from now, there will be articles [because] they won't be able to run the battery plants at full capacity," Phillips said.
Correction: An earlier version of this story said Ford Motor planned to offer standard and extended range versions of the Mustang Mach-E and the F-150 Lightning. Ford already offers both versions of each vehicle; the change is the type of battery that will be used in the standard models. We apologize for the error. 
Financial Post
• Email: gfriedman@postmedia.com | Twitter: GabeFriedz
If you liked this story, sign up for more in the FP Energy newsletter.



[ad_2]

Source link