[ad_1]

Loblaws deal led to Neal Brothers merger with rival distributor Jonluca Enterprises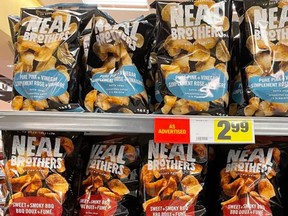 Article content
About this time last year, Neal Brothers Foods caught a break. Its biggest customer, and the largest grocery chain in Canada, Loblaw Cos. Ltd., squared off against the global food manufacturing giant PepsiCo Inc.
Article content
As inflation surged in the food chain, Loblaw refused to pay more for PepsiCo's food products. And in a retaliatory move that made national news, PepsiCo yanked its FritoLay line of potato and corn chips — Tostitos, Doritos, Cheetos, Fritos, Lays, Ruffles — from shelves across Loblaws' network of 2,400 stores.
Article content
That meant Loblaw needed chips. Neal Brothers, a Toronto-based manufacturer and distributor that specializes in natural and organic products, had a whole line of chips. Over the course of about two months in early 2022, Loblaw upped its order for Neal Brothers' snacks by about 85 per cent and moved the brand from a lonely corner in the natural foods section to the high-traffic snack aisle, according to co-founder Peter Neal.
Article content
It was a lucky jump to the big leagues for the small snack company, but a fleeting one. Now, nearly a year later, it's ready for a follow-up act.
On Jan. 12, Neal Brothers Foods announced it is merging with Vaughan, Ont.-based food distributor Jonluca Enterprises Inc. to create a national distributor for the so-called natural, or "good for you" segment of the food manufacturing industry, with 130 employees and $100 million in annual sales.
The story of how Neal Brothers and Jonluca came together started in the aftermath of the Loblaws deal.
We were essentially giving product away

Peter Neal
To fill the Loblaw orders, Neal Brothers' warehouse in Richmond Hill, Ont., ran marathon shifts, 60 hours a week. But through it all, the company barely made any money.
"We were essentially giving product away, to be honest," Neal said in an interview.
Article content
The company was facing the same spikes in costs that PepsiCo was complaining about. Russia's invasion of Ukraine thrust the commodities market into chaos, with buyers unsure whether the region's globally critical supply of grain, fertilizer and sunflower crops would make it into international markets. As fuel costs rose, the price of trucking a pallet of products from his warehouse north of Toronto to British Columbia had ballooned from about $300 to as much as $800, Neal said. Then, in mid-March, Neal Brothers lost a shipment of sunflower oil they needed to fry their chips when a tanker on the ocean was rerouted to another buyer who was willing to pay more.
"It was a mad rush," Neal said. "We were pumping more out, but we were getting slammed with higher costs."
Article content
At the end of it, after PepsiCo and Loblaw made up in April and Frito-Lay products returned to shelves, Neal Brothers was punted back to the organics section.
Neal, who started the company in 1988 with his brother, Chris, was left thinking something about his operation had to change.
"We realized even an increase in business wasn't going to solve the bottom-line problem," he said. "We were going to need … to find cost savings."
It was going to kill us

Peter Neal
On top of that, his warehouse lease was also up in early 2023, and the rent was going up to $17 per square foot, from $7 previously.
"It was going to kill us," he said.
So Neal Brothers reached out to a competitor in the food distribution business. (On top of being a food brand, Neal Brothers runs a distribution business that gives other brands the logistics and marketing to supply retailers around the country — a skill many small food companies and new entrants to the Canadian market often don't have in the beginning.)
Article content
Jonluca Enterprises Inc. was also founded by two brothers, Casey and Yian Eleusiniotis in 2010, with the help of their father, Angelo Eleusiniotis, a food industry veteran who the Neal brothers had considered a mentor for decades. Jonluca had warehouses in Vaughan, north of Toronto, as well as Burnaby, B.C. Neal Brothers' distribution business covered Ontario, as well as Quebec and the Maritimes.
Merging made sense, Neal said. His distribution business will move into Jonluca's warehouses, and gain access to its fleet of 16 delivery trucks. As he put it, both distributors were sending half-full trucks to the same network of specialty stores and major chains but now they can consolidate it all on the same truck and save money.
Article content
"You go to a Whole Foods. Instead of two trucks with a pallet each, you're sending one truck with two or three pallets," Neal said.
The founders of Jonluca expect to benefit from Neal Brothers' ability to forge relationships with brands around the world for distribution in Canada.
"These guys pick awesome brands," said Casey Eleusiniotis, who is chief development officer at the new company.
That company will be known as Jonluca Neal, mostly, Peter Neal said, because it sounded better than Neal Jonluca.
"We've had M&A people, tax people, lawyers, all say, 'Jeez, I've done a lot of these deals. I've never done anything as odd as this, and easy as this,'" Neal said. "You're not axing heads and you're not scrapping about what the name is going to be and who's going to be in what office."
• Email: jedmiston@postmedia.com | Twitter: jakeedmiston


[ad_2]

Source link