[ad_1]

A lot is going to need to go right to get to the idyllic hydrogen land of the future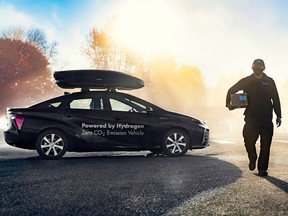 Article content
Andrew Mitchell has always been a risk taker. His first career involved racing mountain bikes downhill at ferocious speeds on the World Cup circuit. A bad crash in California, and lingering concussion issues, forced the four-time Canadian champion to retire more than a decade ago.
Article content
But the end of one hazardous profession became a springboard to the next, as Mitchell sold off his racing bikes and bought two electric-assist cargo-tricycles to become a zero-emission "eco-courier."
The chief executive of Victoria-based GeaZone Strategic Ecopreneur Group Inc. would pedal around the downtown area, dropping off parcels and such. Alas, the trikes could only get him, and a couple of his co-worker buddies so far, and so he began adding battery-electric vehicles (EV) to the mix to increase the scope of the company's service area.
By 2020, he had 20 Teslas, and an ongoing, vexing problem to address: GeaZone's zero-emissions EV fleet required charging, and that required boosting hydro capacity at the company's warehouse spaces by reworking the electrical system. Every additional five cars represented an additional $100,000 in infrastructure costs; financial outlays that hampered the bootstrapping eco-courier's ability to grow bigger, faster.
Article content
"It was really tough to grow," Mitchell said.
The solution? Take a risk. The now 34-year-old ex-professional mountain biker cold-called Honda Canada Inc., Hyundai Auto Canada Corp. and Toyota Canada Inc. requesting a senior executive, salesperson or just anybody call him back since he was looking to buy "like, 40 hydrogen fuel cell electric vehicles, today."
That day, in early 2021, only Toyota called back. A little more than a year later, GeaZone has 30 fuel cell powered Toyotas, a.k.a. FCEVs, servicing clients around Vancouver Island and the Vancouver area.
The hydrogen cars take minutes to fill, instead of the several hours sometimes needed for EVs. The region's four hydrogen-fuel stations are privately owned, so Mitchell is still on the hook for filling the cars at the pumps, at around $70 a pop, but he isn't saddled with the costs of building more infrastructure. And in an industry where time is money, he also isn't losing productivity while waiting for those Teslas to power up.
Article content

"There is no comparison to an EV," he said. "The only downside is the hydrogen fuelling infrastructure is in its infant stage, and I say the more stations, the better."
Cheers to that, say hydrogen highway dreamers, present and past, a collection of entrepreneurs, fuel cell lovers, scientists and politicians, including former United States president George W. Bush, who promoted hydrogen fuel cell vehicles as the eco-friendly remedy for "the same old endless struggles that seem to produce nothing but noise and high bills" back in 2003.
Action movie hero and one-time California governor, Arnold Schwarzenegger, was tooling around in a fuel cell-prototype Hummer in 2004. Six years later, Whistler, B.C., had a fuel cell-powered fleet of 23 hydrogen buses shuttling spectators between Olympic venues at the 2010 Winter Games.
Article content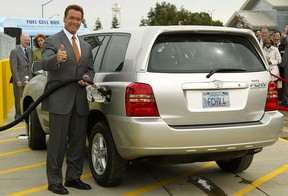 But all the buzz, prototypes, presidential pronouncements, pilot projects and hydrogen promise have failed to produce a stampede of FCEV buyers, let alone a proliferation of corner hydrogen fuel stores across North America. As revolutions go, the hydrogen push has paced at a slow burn, but that doesn't mean change isn't coming.
Industry stakeholders, academics, eco-not-for-profits and net-zero boosters, including the federal government, foresee a future, circa 2050, when five million hydrogen fuel cell cars are cruising Canadian streets, while the pie-in-the-sky hydrogen picture, south of the border, is of a suburban America of two-car garages with an EV alongside a FCEV. Of course, a lot is going to need to go right to get from here to the idyllic hydrogen land of the future.
Article content
"I am not sure Canada has believed in the opportunity we have — yet," said Colin Armstrong, founder and chief executive of HTEC, which is producing hydrogen and building fuelling stations in British Columbia, as well as a semi-mobile unit in Quebec City.
Armstrong is a hydrogen believer, and at 55 with 30 years of experience in the hydrogen sector under his belt, the good-natured mechanical engineer understands the value of patience.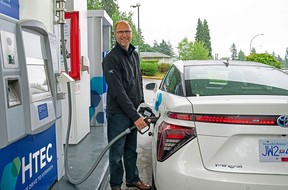 HTEC's work is incented by B.C's low carbon fuel standard, which credits suppliers for producing low-carbon-intensity fuels, such as green hydrogen, made from renewable energy sources.
HTEC also has its eyes on California, currently the hydrogen-car promised land. The state counts more than 14,000 FCEVs on its roads — compared to about 200 in Canada — is home to Toyota Motor Corp.'s advanced technologies research group in Los Angeles, and already has 56 public hydrogen stations up and running, with a government commitment, backed by US$115 million in new funding, to hit 200 by 2025.
Article content
Armstrong, B.C. born and raised, got hooked on hydrogen technology in the 1990s. This was the era of the Kyoto Protocol, an admission by a good chunk of the world's countries that the planet was warming, humankind was to blame, and people needed to get their act together, ASAP, to drastically reduce carbon emissions.
"Hydrogen technology poses a unique set of opportunities to address what is a global problem," he said.
Twenty-five years later, airport runways are melting in the United Kingdom, while Europe wilts amid yet another so-called once-in-a-generation heatwave. Some problems can be stubbornly persistent, and grow progressively worse, while some solutions, such as hydrogen cars, can appear just as inviting as they were, well, three decades ago.
Article content
Fuel cells are an engineering marvel. They are simple, clean, have limited moving parts and produce an efficient conversion of hydrogen to electricity. The kicker: the waste the fuel cells generate isn't waste, but water.
Imagine a world powered by the most abundant chemical substance in the universe, and it is not a huge stretch to start picturing hydrogen highways, seaways, railways, airways and even electrical grids. There is a reason why the believers believe.
"We are focused on making the hydrogen transportation network viable, California to Vancouver, Vancouver to Quebec," Armstrong said.
Someone driving a FCEV on a cross-Canada road trip could fuel up in Quebec City, and roll to a dead stop 500 kilometres later for want of more hydrogen
Should that network come to be, it would run right past Toyota Canada's corporate headquarters in northeast Toronto, not too far from some of the most travelled highways in the country.
Article content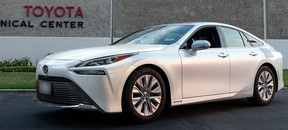 On a brutally hot summer day, a metallic-blue, second-generation, zero-emission Toyota Mirai hydrogen fuel cell car was parked out front of HQ. (The first-generation Mirai was released in 2015). The car's exterior was dusty with some splotches of bird poop on the hood, a sign, not of neglect, but that the $50,000 vehicle had arrived at the office from Quebec on the back of a combustion-engine truck.
As it stands now, someone driving a FCEV on a cross-Canada road trip could fuel up in Quebec City, and roll to a dead stop 500 kilometres later for want of more hydrogen. After Quebec City, that's it for hydrogen fuel until Vancouver, which is why Toyota trucks its show car, currently the only one of its kind in Canada, from east to west.
Article content
The hydrogen revolution may indeed, finally, be underway, but its progression will not be dictated by any one company's desire to mass produce fuel cell cars, but by the HTECs of the industry's ability to solve the missing infrastructure piece.
But back to the car: the Mirai may be rare, but it is not a particularly flashy ride. It is an unremarkable-looking four-door sedan, but with some remarkable hydrogen fuel cell technology under the hood. A spin around the Toronto suburbs reveals a vehicle with a good deal of pep, one that ran more quietly than a mouse. The car's neat-as-can-be factor was best encapsulated by the button next to the steering wheel marked: "H20." Press it, and the tailpipe expels water.
The seeming magic of FCEVs is old hat for Craig Scott. He is a Toyota group manager and works with the company's advanced technologies crew in Los Angeles. On a recent morning, he retreated to a park near his home in Orange County, Calif., to escape the industrial whine of some workers cutting concrete in front of his house and took a phone call.
Article content
"I have been driving a fuel cell vehicle for probably 21 years," he said.
The first prototype to emerge from the Japanese automaker's workshop was a hydrogen SUV, a zero-emissions behemoth that cost about a million bucks, and had a maximum range of about 350 kilometres.
After solving some kinks, improving the range and creating another prototype, Scott and a bunch of engineers went on a proof-of-concept adventure of a lifetime in 2007, driving from Fairbanks, Alaska, to Vancouver. The idea was to pick a remote, rugged route packed with history and potential problems to troubleshoot. The team made its own hydrogen on the back of a support vehicle and would soundlessly slip past disinterested bison, mountain goats and elk.
Article content
"It was by far the best road trip ever, it was unbelievable," Scott said.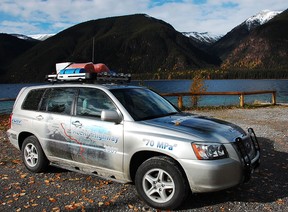 Fifteen years later, a vehicle that was a puzzle for research scientists to piece together, with a price tag consumers could never afford, has evolved into a four-door sedan that doesn't have a whole lot of legroom in the backseat.
"By most peoples' accounts, they would see this as a slow process, but it has been a tremendous amount of work to get from building a prototype of a car, that cost $1 million, to a car we sell in California today," Scott said. "When I look at it from that lens, I don't look at it as that much time."
The Toyota executive can't predict the future, but like Armstrong in B.C., Scott embraces the long view. And the way he sees it, all those existing gas stations, strung along the roads and highways of North America, stand as built infrastructure and a massive opportunity.
Article content
Some of those stations could be switched over to pumping hydrogen, at a reported price tag of about $2 million per conversion. It is already happening in California, while in Washington, President Joe Biden's administration has earmarked US$8 billion to fund the development of four regional "hydrogen hubs," tasked with producing hydrogen fuel for industrial use.
"We are at an inflection point," Scott said. "I think over the next few years, FCEVs are really going to take off."
He could be right, but not everyone is sold on the hydrogen revolution. Count Pierre-Olivier Pineau, a professor and energy policy expert at HEC Montréal, the University of Montreal's business school, among the critics.
"I have a clear vision for hydrogen in personal transportation: it has an absolutely insignificant future," he said.
Article content
One of the hooks of hydrogen is that filling a FCEV is like filling a car with gas. It only takes a few minutes. That's great, but Pineau points out that most drivers spend most of their day, well, not driving. Electric vehicles can be charged overnight. As a result, the appeal of hydrogen as a faster filler-upper is irrelevant.
Where the professor does see potential for FCEVs is in the trucking sector, but even in that space, fleets upon fleets of long-haul, fuel cell trucks, spitting water from their tailpipes instead of diesel fumes, would still require roads, and roads require maintenance, all of which is incredibly energy intensive. In other words, by cleaning up the one mess — vehicle emissions — the other mess persists, and possibly even gets worse.
Article content
"We cannot afford over the long run to have the same bad habits in freight transportation, even with zero-emission vehicles," Pineau said.
Perhaps, then, it is best to start small, dream big, factor in what is practical as it relates to hydrogen, and be prepared to take some risks. Call it the Mitchell approach.
The eco-courier with the two trikes now has more than 50 zero-emission vehicles, a number, he admits, that would have taken years to reach if Toyota hadn't called him back, and if Colin Armstrong was not a believer, and if Craig Scott and his pals had never gone on that once-in-a-lifetime road trip.
"Hydrogen is an extension and an accelerator to what we had been doing," Mitchell said. "But it now allows us to compete against the big guys."
On Vancouver Island and around Vancouver proper it does, but as for the rest of the country, they'll have to wait.
• Email: joconnor@postmedia.com | Twitter: oconnorwrites


[ad_2]

Source link