Quebec is the biggest drag on reading, while non-residential investment returns to an increase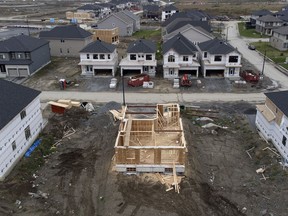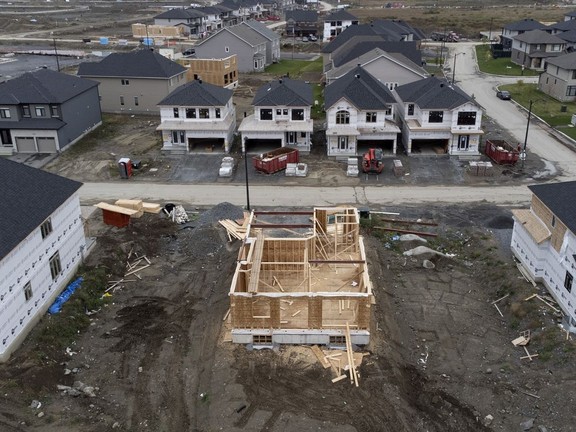 Article content
OTTAWA — Statistics Canada says investment in residential construction declined for the first time in nine months in June, as gains in the non-residential sector helped push overall construction investment up 0.3 per cent to $20.8 billion.
Article content
The agency says residential construction investment fell 0.4 per cent to $15.5 billion in June, with Quebec being the biggest drag where investment in housing construction fell 6.7 per cent from May to June.
Quebec was one of four other provinces and two territories that experienced declines.
Nationally, multi-unit construction investment also slumped in June, dropping 1.6 per cent. "Despite this decrease, investment in multi-unit construction has shown an overall upward trend since October 2021," Statistics Canada said in its report.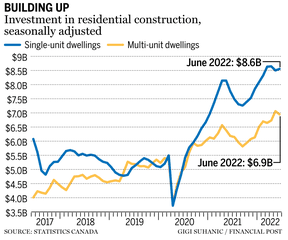 Within the residential segment, investment in single-family homes continued to show strength, rising 0.7 per cent to $8.6 billion, having outpaced multi-unit construction since the COVID-19 pandemic downturn.
Article content
The provinces and territories where residential construction investment increased from May to June, were B.C., Saskatchewan, Ontario, New Brunswick, Nova Scotia, and Nunavut.
In Ontario, residential construction investment was up 0.9 per cent to $6.3 billion for June. It rose 2.4 per cent in B.C. to $2.6 billion.
On the non-residential construction front, investment in that sector rebounded in June, increasing 2.4 per cent to $5.3 billion for the month, with commercial construction advancing 2.7 per cent to $3 billion, driven by Ontario.
Investment in commercial construction had fallen in May, the first time in 13 months, as a result of an Ontario construction workers strike.
Statistics Canada says the total value of investment in building construction rose 3.3 per cent to $62.3 billion in the second quarter, the third consecutive quarterly increase.