Many of society's worst economic problems are the result of disregarding Friedman's vision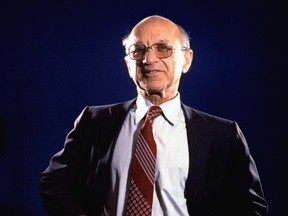 Article content
Free-marketers tend to look askance at centralized hierarchical institutions so a comparison to the Catholic Church may not be apt, but if modern free-marketers have had anything like a pope it was Milton Friedman. Just as the anniversary of the election of the reigning pope is a public holiday in Vatican City, disciples of the late free-market economist may well have marked Friedman's 110th birthday this past Sunday by re-reading one or more of his many books and columns.
Article content
Of his books, the most popular among lay readers is "Free to Choose," co-authored with his wife Rose. Free to Choose is a clear exposition of the power of the free market. In it the Friedmans attack: restrictions on trade, the welfare state, government-induced inflation and economic crises, attempts to equalize economic outcomes, centralized control of education, regulations that restrict consumer and worker freedom (often under the guise of "protecting" them) and many other government failures. The book was accompanied by a PBS television series of the same name and a lecture series titled "Milton Friedman Speaks." Both are well worth watching.
Friedman wrote a weekly column for Newsweek magazine from 1966 to 1984, always making the case for reducing government control. One of his greatest successes was the elimination of military conscription in the United States, in which he played an instrumental role through his work on a government commission and his writing in books and columns. The power of Friedman's ideas was also evident in the free-market victories of the Ronald Reagan and Margaret Thatcher governments in the 1980s. In addition, the enormously successful economic liberalizations of Chile in the 1970s and 1980s following Marxist failures and of Estonia in the 1990s after the fall of Communism can be directly attributed to Friedman's influence.
Article content
Today, unfortunately, Friedman's ideas seem to hold little sway with politicians. Seemingly everywhere, government spending and regulation are marching upwards. Even putative conservatives generally have a greater appetite for expanding government economic control than curtailing it. Some examples: the current love affair between many Canadian conservatives and monopolistic labour unions; the climate alarmism and related policy disasters perpetrated by Boris Johnson in the U.K.; the enthusiasm for restrictions on trade and immigration among many in the Republican Party in the United States; and the refusal of anyone anywhere to take a much-needed hatchet to government spending.
Article content
In the business community, too, progressive orthodoxies and not Friedman's ideas are the flavour of the day. In this age of stakeholder capitalism, if corporate executives make any public reference to Friedman's ideas it is to condemn his doctrine that the social responsibility of business is to increase profits. But then, even in Friedman's day, the business community was never a reliable promoter of free markets. "It has often seemed to me," he wrote in 1966, "that the two greatest enemies of the free market are businessmen and intellectuals, for opposite reasons." Businessmen want special government privileges for themselves but free markets everywhere else; intellectuals want freedom for themselves but restrictions on everyone else.
Article content
Wherever we look, many of society's worst economic problems are the result of disregarding Friedman's vision. High inflation is causing significant distress; the government-run health care system is in a shambles; doctors and other professionals with overseas training sit unemployed or underemployed as a result of occupational licensing; public school systems underperform and test scores are trending down, as unions, not parents, call the shots; a broken welfare system traps too many in poverty; minimum wage laws and other labour regulations discriminate against the most disadvantaged members of the labour force; and high taxes, useless government programs and the politicization of commercial activity reduce economic growth and increase poverty.
Article content
Thankfully, the pendulum always swings back, especially as economic reality imposes itself. In the 1990s fiscal crises forced even NDP and Liberal governments to slash program spending. Canadians are a tolerant people —far too tolerant of government planning disasters — but there is a limit to how much inflation, deterioration of public services, high taxes, and oppressive regulation they will abide. When the tide finally turns, many of Friedman's ideas — the curtailment of occupational licensing, expansion of school choice, reining-in of government spending, and many others — will be put into practice. The world today is clearly stronger, richer, and freer thanks to Friedman's influence. Practicing more of what this secular pope preached would make us better off still.
Matthew Lau is a Toronto writer.