Shares fell about 3% in trading after the bell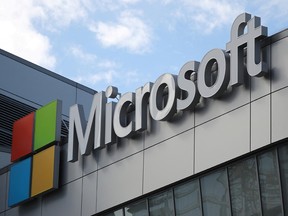 Article content
Microsoft Corp. missed estimates for quarterly revenue on Tuesday, hurt by a stronger dollar and tough competition from Amazon.com Inc. and Alphabet Inc. in the booming cloud-computing space.
Article content
Competition in the sector has ramped up since the lockdowns as more businesses seek to move computing and data storage to the cloud.
Shares of the Redmond, Washington-based company fell about three per cent in trading after the bell. The stock has lost about 25 per cent this year.
Microsoft also faces pressure from a stronger greenback as it gets about half of its revenue from outside the United States. That led the company to lower its fourth-quarter profit and revenue forecasts in June.