[ad_1]

OPEC+ is treading a cautious path on oil policy as it awaits clarity on China's economic reopening and new sanctions on Moscow.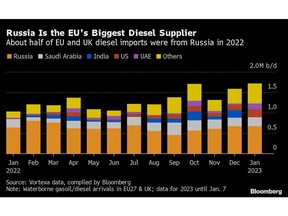 Article content
(Bloomberg) — OPEC+ is treading a cautious path on oil policy as it awaits clarity on China's economic reopening and new sanctions on Moscow.
Article content
Industry figures from Goldman Sachs Group Inc. to trading giant Trafigura Group Pte Ltd. anticipate rallying prices as demand rebounds in Asia's largest economy and a European embargo squeezes Russian supply. But as Saudi Arabia and its partners consider their next move, the signals remain too opaque. 
Article content
Delegates have said that the Organization of Petroleum Exporting Countries and its allies will recommend keeping production levels unchanged at a monitoring meeting on Wednesday, holding in place hefty production cutbacks announced late last year.
"At this moment we need to be very careful on any decision," said Equatorial Guinea's Oil Minister Gabriel Mbaga Obiang Lima, who this year serves as OPEC's president. "The China opening and at the same time the Russia-Ukraine war, clearly those are the two factors."
Article content
After a volatile month, international oil prices are fluctuating near $85 a barrel in London — high enough for many OPEC+ nations to cover government spending, but still a little lower than some financially straitened members, such as Iraq, say they need. 
China's decision to scrap almost three years of stringent lockdowns has spurred a revival in travel, bolstering domestic air journeys by 80% and flooding popular local destinations with tourists. Goldman Sachs sees a "bullish concoction" for commodities and Trafigura anticipates a "lot of upside" for crude as Beijing reawakens.
At the same time, global supplies should be tightened as sanctions finally take a toll on Russia, itself a key member of the OPEC+ coalition. The International Energy Agency projects the country's output will sink 15% this quarter as a European Union ban on imports of Russian crude expands next month to encompass refined fuels. 
Article content
Still, the recovery may not yet be tangible enough for the 23-nation OPEC+ alliance to open the taps. 
Despite the rebound in Chinese travel, economic indicators in the world's biggest oil importer are showing a more muted recovery. Lingering fears of recession are casting a shadow on the US economic outlook, and Russian exports continue to show resilience in defiance of repeated predictions of an imminent plunge. 
Riyadh will also keep a watchful eye on a nascent uptick in oil shipments an fellow OPEC member, and political adversary, Iran. 
Remaining Conservative
Top officials in OPEC+ have signaled they'll be conservative in reversing the 2 million barrel-a-day output reduction that's been in place since November. 
Article content
OPEC Secretary-General Haitham Al-Ghais said at the World Economic Forum in Davos earlier this month that he's "cautiously optimistic" on the global economy. Saudi Energy Minister Prince Abdulaziz bin Salman maintains that the alliance will be "proactive and preemptive" to keep markets in equilibrium. Russian President Vladimir Putin and Saudi Crown Prince Mohammed bin Salman discussed oil market "stability" in a call on Monday. 
OPEC+ may wait until the second half of the year to unwind the current output curbs, according to Goldman Sachs. The group is due to hold another monitoring-committee meeting in two months, and a full ministerial session at its Vienna headquarters in June, when there may be more Chinese demand data available to consider. 
"There does not seem to be a significant groundswell of support amongst the producers for adding barrels back at this time until there are clear indications that the reopening is built to last," said Helima Croft, chief commodities strategist at RBC Capital Markets LLC. 
—With assistance from Anthony Di Paola and Olga Tanas.
[ad_2]

Source link