Paramount Fine Foods founder locked in heated court battle with investors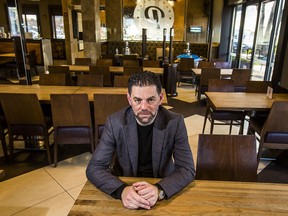 Article content
A soured business partnership has become a heated court battle that could see prominent businessman and Order of Canada recipient Mohamad Fakih removed as officer and director from the Lebanese food and restaurant chain he founded in 2007 shortly after emigrating to Canada.
Article content
The chain, Paramount Fine Foods, had expanded to 76 locations by 2020, according to a profile in Toronto Life, which chronicled Fakih's hardworking days as a businessman, philanthropist and family man that sometimes began as early as 4 a.m.
Article content
But documents filed in the Ontario Superior Court of Justice as part of a protracted legal battle that began last year tell a different story. The legal filings on behalf of investors AHM Investments Corp., Ali Noureddine and Mirza Naeem Javed accuse Fakih of running the company without consulting them, despite their majority ownership, and using it for his personal benefit "at the expense of the business."
Their allegations, which centre on the financial condition of the company and the status of the approximately $25 million the Kuwait-based investors have put into the business since 2015, have not been tested in court.
Article content
A motion to have Fakih removed is scheduled to be heard on Dec. 9. The Paramount investors says removal is necessary because "critical business decisions need to be made that cannot be made" due to a deadlock over a voting rights agreement between the shareholders. They say they own 75 per cent of the business, with Fakih and his family owning the balance.
"Up to approximately 2020, Mr. Fakih had at least some contact and consultations with me and Mr. Javed when making business decisions," Noureddine said in an affidavit filed Sept. 13. "Our relationship deteriorated in the period that followed, and it is apparent that Mr. Fakih stopped contacting or consulting us altogether and ran the business as he saw fit, including taking a number of steps to benefit himself personally at the expense of the business."
Article content
After failing to get the answers they were seeking from Fakih, the Kuwait-based investors retained A. Farber & Partners Inc. to assess the state of the business and potential restructuring options. They say the report revealed Fakih and his company, Fakih Group Inc., owe nearly $12 million to the business.
"It appears that some or all of the subsidiaries of (Paramount) are insolvent and there are millions of dollars owed to the CRA for unremitted HST and to a critical supplier," the shareholders say in their motion to have him removed as an officer and director of the company.
Noureddine and Fakih are the two directors of Paramount. If Noureddine and Javed are unsuccessful in getting Fakih removed, the two majority shareholders want the court to instead install a third director.
Article content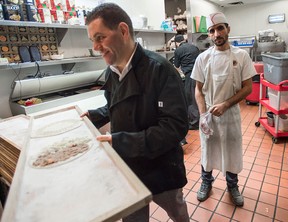 Paramount Fine Foods is headquartered in the suburbs west of Toronto, where the company's name adorns a large sports and entertainment centre in Mississauga that has hosted national and world hockey and figure skating championships, as well as musical artists including Green Day, Chris Brown and the White Stripes.
Last year, Fakih was among 135 appointments to the Order of Canada, the country's highest civilian honour, which was bestowed on him for "his business and community leadership, and for his philanthropic involvement in his community and abroad."
Fakih disputes the allegations and took action against his business partners last year, accusing them of failing to live up to their obligations to the business.
Article content
"Mr. Noureddine, AHM, and Mr. Javed … failed to provide required capital contributions and/or shareholder loans to acquire and/or maintain their interest" in the companies, Fakih said in court filing dated March 25, 2021.
He said that in 2015, he and Noureddine "became business partners based on a fundamental understanding… as to how the Paramount business would be operated."
As was "consistent with past practice, Mr. Fakih would be responsible for the day-to-day operations, management, and strategic advancement of Paramount" while Noureddine would act "in a supportive, respectful, and constructive manner to assist Mr. Fakih in fulfilling this role."
Part of that fundamental understanding was that "Mr. Fakih and the Noureddine Parties would promptly fund all operational shortfalls or required capitalization for the ongoing business pro rata with their respective shareholdings," the documents claim, and "to the extent that Mr. Fakih's role in the management of Paramount led to any potential personal liability, the Noureddine Parties would indemnify and hold Mr. Fakih harmless in proportion to their shareholdings."
Article content
In addition, Fakih and the Noureddine "would fund any tax liability incurred by Paramount as a result of the Noureddine Parties' acquisition of shares pro rata with their respective shareholdings."
In the court papers, Fakih says Noureddine initially took a 25-per-cent interest, and then put him and Paramount "under financial duress" and created an environment where Paramount would need more money.
This included "delaying and withholding funds" while "promoting an aggressive expansion plan which required additional funds."
Further, Fakih accuses his business partner of "directly pressuring and instructing Paramount employees to pressure business counterparties, making representations and commitments on behalf of Paramount to business counterparties without authorization, and ultimately withdrawing those commitments without regard to the resources wasted in the course of negotiations, all of which gave rise to strained relationships and in some cases led to disputes and litigation."
Article content
He said these moves allowed Noureddine to increase his total interest in the business to 40 per cent, then 50 per cent.
"In late 2018, rather than provide these funds by satisfying the Shortfall Payment Obligation as required pursuant to the Fundamental Understanding and Mr. Fakih's and the Trust's reasonable expectations, Mr. Noureddine introduced his friend Mr. Javed to Mr. Fakih as a potential new investor in Paramount," Fakih alleges in the court documents.
"Given that Paramount required additional funds, Mr. Fakih and Paramount had no other option but to agree to Mr. Noureddine's terms and accept Mr. Javed's investment."
Reached by phone, Fakih said his investors are attempting to use a counterclaim to an action he filed demanding they fulfil their financial obligations to him to damage his reputation "because I'm going after them hard to get my money."
Article content
He said the claims that his business is insolvent are untrue — only a tactic meant to put pressure on him by stoking concerns among his landlords and franchisees.
"I imagine they're laughing," he said. "It's sad that (media is) reporting on this because (it's) helping them in the end, because they live in Kuwait and they have nothing to lose," he aded. "They don't care about the investments of the Canadian families that believed in Paramount. They never did."
After arriving in Canada in 1999, Fakih became a celebrated restaurateur and philanthropist in the Toronto area, who drew much attention for his pledge to hire 100 Syrian refugees following a trip to a refugee camp in his native Lebanon in 2015.
"They're just throwing dirt because they know my reputation is very important to me," he said. "The company is viable and it's worth saving."
John J. Pirie, a Toronto-based partner in the litigation group at Baker & McKenzie LLP, lawyers for Noureddine, Javed and AHM Investments, declined to comment on the dispute.
"I will not comment on the matter while it is before the Court," he said.
• Email: bshecter@postmedia.com | Twitter: BatPost
• Email: jedmiston@nationalpost.com | Twitter: jakeedmiston