Pension fund writes off $150-million investment in bankrupt Celsius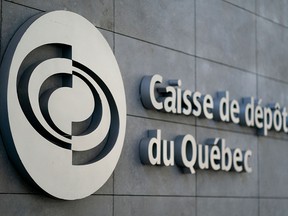 Article content
He said his team conducted extensive due diligence with outside experts and consultants. They were aware of management and regulatory issues at Celsius and underestimated the time it would take to resolve them, he said, adding the Caisse was keen on "seizing the potential of block chain technology" and perhaps the investment in Celsius had been made "too soon" in the company's development.
Article content
He noted that the investment was a very small part of a large venture portfolio that has produced 35 per cent returns over the past five years.
"In these disruptive technologies, there's ups and downs…. Some big winners and many losers," Emond said.
Although the Caisse posted an overall return in negative territory for the first six months of the year, the performance exceeded that of its benchmark portfolio — which posted a negative return of 10.5 per cent.
Article content
"Over five and 10 years, annualized returns were 6.1 per cent and 8.3 per cent respectively, also outpacing benchmark portfolio returns," the pension manager noted.
Emond said the Caisse is managing the "turbulence" with a combination of asset diversification and strategic adjustments made since the COVID-19 pandemic began.
"For the past two years, we've been working in an environment of extremes characterized by particularly fast and pronounced changes. These unusual and unstable conditions will persist for some time," he said.
"In the short term, we'll be watching what central banks do to contain inflation and how that impacts the economy."
Article content
During the first six months of the year, negative returns in equities and fixed income were partially offset by gains in the Caisse's investments in real assets including infrastructure and real estate.
The pension giant posted a negative return of 13.1 per cent in fixed income, which beat the negative 15.1 per cent return for its benchmark portfolio. This represented nearly $3 billion in "value added" attributable to all credit activities, the Caisse said.
A negative return of 16 per cent in equities beat the negative 17.2 per cent return in the benchmark portfolio.
The Caisse's real estate and infrastructure portfolios, meanwhile, generated a 7.9 per cent six-month return, "demonstrating their diversifying role which contributes to limiting inflation's impact on the total portfolio."
Article content
The real asset class performance also beat the benchmark portfolio's return, which was 2.4 per cent.
"So that asset class played its role. The two portfolios are doing well," Emond said.
He said it is challenging to compare the short-term performance of Canadian pension funds because they have e different mandates and investment models. The Ontario Teachers' Pension Plan, for example, has less exposure to equity markets than the Caisse and more exposure to natural resources and commodities, which performed well in the first half of the year.
• Email: bshecter@postmedia.com | Twitter: BatPost