[ad_1]

'We think we've addressed all the issues the government has put in front of us'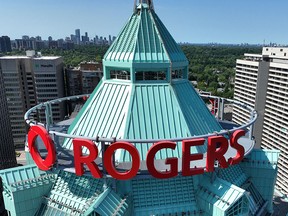 Article content
Tony Staffieri, the chief executive of Rogers Communications Inc., said his company's $26-billion merger with rival Shaw Communications Inc. could close this year if mediation with the Competition Bureau next month resolves concerns.
Article content
"We welcome a dialogue to try to close this then, or even before that," he said at a BMO Capital Markets conference Tuesday morning.
Article content
Staffieri said the deal could close in 2022 even if talks in late October fail and a Competition Tribunal hearing scheduled to begin Nov. 7 wraps up within "a few weeks" as a result of a "remedy" Rogers and Shaw have lined up to sell Shaw's wireless division to Quebecor Inc. subsidiary Vidéotron Ltd.
Nevertheless, he noted that the transactions also need approval from Innovation, Science and Economic Development Canada, and said the companies have extended their agreements into 2023 as well as the deal's financing. 
"There is a possibility to get a decision from the tribunal this year," Staffieri said, adding that he is "disappointed" it is taking so long. 
Article content
"We think we've addressed all the issues the government has put in front of us."
Staffieri said the impact on Rogers of this summer's day-long wireline and wireless outage, which had widespread ripple effects on 911 emergency calls and electronic Interac financial transactions, was "isolated" and "small but manageable" in terms of the company's wireless subscriber base and financials. 
The company is "back to levels we were previously at," he said, noting that a $150-million charge to compensate customers will affect revenue and earnings before interest, taxes, depreciation and amortization (EBITDA) in the third quarter.
Article content
The July 8 service outage that directly affected 12 million Rogers subscribers came on the heels of the Competition Bureau's announcement in May that it would seek to block Rogers' transformational merger with Shaw after concluding the combination of the two telecom giants would lessen wireless competition and lead to higher prices for consumers.
At that time, an initial remedy proposed by the companies to alleviate those concerns by offloading wireless assets was rejected by the competition authority. Quebecor, which had not initially been included in talks with Rogers' advisers, was invited to the table, and the $2.85-billion sale of Shaw's Freedom Mobile business to Quebecor's Vidéotron division was announced June 17 and finalized in August.
Article content
The price tag was lower than analyst estimates, which had pegged the value of Freedom at closer to $4 billion.
Rogers and Shaw first announced their blockbuster merger on March 15, 2021.
At Tuesday's conference, Staffieri acknowledged that earlier mediation talks with the Competition Bureau failed to resolve the conflicting views over the merger's impact, but he said an "expedited resolution" would benefit all parties including telecom customers.
"We're open to that. But we haven't had any meaningful response from the bureau to move this file forward ahead of the tribunal," he said.
Staffieri told investors attending the conference that he believes the sale of Freedom Mobile to Quebecor's Vidéotron subsidiary will create a stronger fourth wireless player, something the federal government has been pushing for to create more competition for Rogers, Telus Corp. and BCE Inc.'s Bell Canada. 
Article content
"We think the facts on that are extremely compelling," he said. The proposed sale "will create a fourth wireless player that will have almost four million subscribers (and) cover 85 per cent of Canada."
Staffieri added that Vidéotron brings additional spectrum, including 3500 MHz, "which Freedom does not have, so it has a very clear roadmap to 5G."
In addition to the spectrum to build a next-generation wireless network, Staffieri noted that Vidéotron is already a strong wireless player in Quebec.
"They think about wireless and cable every day, and so bring deep operational experience to it," he said.
• Email: bshecter@postmedia.com | Twitter: BatPost


[ad_2]

Source link