A shift in people's clothing tastes and a rise in discounts affected sales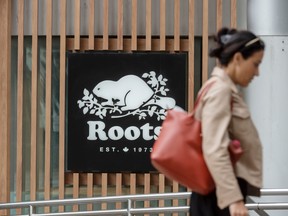 Article content
Roots Corp.'s share price plummeted in morning trading after the sweatsuit maker said its sales declined in the third quarter amid a shift in people's clothing tastes and greater discounts.
Article content
Investors punished the weak performance on Dec. 9, causing the stock to drop more than five per cent in the first hour of trading before recovering, only to fall again more than seven per cent and then claw back minimal gains. The stock is currently down more than 13 per cent from the previous day's close.
Article content
The Toronto-based company reported revenue fell 8.5 per cent in the third quarter from a year ago, amounting to $69.8 million in sales. The decline brought earnings-per-share down to five cents from 25 cents a year ago when analysts expected profit of 19 cents per share, the Canadian Press reported.
"Our third quarter results reflect a shift in the economic environment since we last reported, which we expect to continue in the fourth quarter of fiscal 2022," chief executive Meghan Roach said in a statement.
Article content
Roots said inflation is impacting its business and pushing up the costs of inventory, third-party services and labour. It underlined central banks' path to crush rising prices as a potential headwind that could reduce consumers' purchasing power. The Bank of Canada again raised interest rates by 50 basis points this week, but has indicated it may pause in January depending on economic data.
Roots' poor sales came in a quarter that usually brings in a significant amount of revenue. In the last three complete years, the third quarter generated 28 per cent of annual sales, while the fourth quarter brought in 44 per cent of sales.
"During the quarter, we also saw more pronounced discounting and an enhanced focus on lifestyle products compared to casual fleece offerings," Roach said. "While we had anticipated this shift, as people returned to offices and events, it accelerated during the quarter and has impacted sales due to the relative importance of each category to our business."
Net income declined to $2.2 billion from $10.8 billion last year. The share price was $2.51 as of 10:45 a.m. in Toronto.
• Email: bbharti@postmedia.com | Twitter: biancabharti