Boosts credit loss provisions as economic outlook sours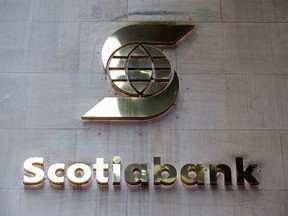 Article content
The Bank of Nova Scotia's net income slipped to $2.09 billion in the fourth quarter, down 18 per cent from the year before as recession concerns set in.
Article content
However, despite the headwinds that led the bank to boost provisions for bad loans, earnings still beat analyst expectations.
Article content
The bank's adjusted earnings in the quarter ending Oct. 31 were $2.06 per share, surpassing average analyst estimates of $2.01 per share. The dividend remained unchanged at $1.03 per common share.
Scotiabank also bolstered its provision for credit losses, or the amount it sets aside for bad loans, with an increase of $361 million from last year, bringing the fourth-quarter provisions up to $529 million as the macroeconomic picture sours.
"We have made strategic investments to refocus and strengthen our footprint and position the Bank for continued success over the long term," said Scotiabank president and chief executive Brian Porter in a press release accompanying the results.
Article content
Porter, who will be retiring from the role in January, said: "It has been the privilege of my life to serve as the CEO of this storied institution. At 190 years old, Scotiabank is older than the country of Canada itself and as we look ahead to 2023, I have every confidence that the Bank's best days are yet to come."
Total revenues were $7.63 billion in the fourth quarter, down two per cent from the previous quarter and one per cent from the year before. However, Scotiabank benefitted from the Bank of Canada's aggressive interest rate hiking as its net interest income grew 10 per cent year-over-year to $4.62 billion in the fourth quarter.
Article content
Higher provisions for credit losses bit into Scotiabank's net income for Canadian banking  which fell to $1.17 billion from $1.24 billion last year. The international banking segment saw more growth during the quarter with a profit of $643 million, jumping 22 per cent year-over-year on higher net interest income.
Scotiabank reported a net loss of $340 million as the bank pulled away from investments in Venezuela and Thailand, as well as winding down operations in India and Malaysia. Expanding the Scene+ loyalty program took $98 million in support costs.
The bank will host its conference call at 8:00 a.m. ET.
More to come …
• Email: shughes@postmedia.com | Twitter: StephHughes95