[ad_1]

Clément Gignac says he will exert 'maximum pressure' on Finance and Bank of Canada to revisit decision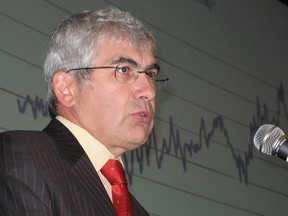 Article content
Canadian Senator Clément Gignac is among those speaking out against Ottawa's decision to stop issuing real return bonds, a key inflation hedge for pension funds and insurers to help meet long-term obligations, and said he hopes Finance Minister Chrystia Freeland will reconsider her decision in the new year.
Article content
"My intention will be to continue to put maximum pressure on Finance and BoC (the Bank of Canada) to revisit their decisions," he said in an email Monday, adding that he has already taken up the issue in the Senate.
Article content
In a LinkedIn post on Friday, Gignac, an economist and former Quebec cabinet minister, called on Freeland and the Department of Finance to conduct "a 'real' and broad consultation" on the government's debt management strategy and real return bond issuance.
The government said there had been consultation with market participants before Freeland decided last month to cease issuance of real return bonds, citing low demand.
However, the decision was controversial, and buy-side investors are increasingly speaking out about it — including Alberta Investment Management Corp. (AIMCo) director Jim Keohane, and Bert Clark, chief executive of Investment Management Corporation of Ontario (IMCO), who this week questioned the government's rationale.
Article content
Both pension experts said that infrequent trading does not indicate low demand, noting that long-term investors such as pension funds tend to buy and hold the real-return bonds and do not trade them.
Moreover, Keohane said that in his experience, which spanned two decades at the Healthcare of Ontario Pension Plan before he joined AIMCo, any government issue of real return bonds would be "oversubscribed."
Clark said real return bonds are an important component of portfolio construction at IMCO, which manages more than $70 billion of assets for public-sector clients in Ontario, providing effective inflation protection.
The change in the government's debt-management strategy with regard to real return bonds has been on Gignac's radar since November. In a LinkedIn post last month, the senator called for the public release of the Bank of Canada's opinion on the Finance department's edict. He said this would be "transparent" and "protect the BOC credibility."
Article content
Gignac questioned whether the central bank was "really on board with this bold decision," noting that real return bonds originated in 1991 when the Bank of Canada adopted its current two per cent inflation target.
Some observers have suggested the government's position on real return bonds could signal a belief that higher inflation will persist, meaning real return bonds would remain an expensive proposition for them.
Pushback from institutional investors against the decision on inflation-linked bonds has been building since last month, and it was clear in the minutes of the most recent meeting of the Canadian Fixed-Income Forum, a group set up by the Bank of Canada to share information on the Canadian fixed-income market.
Article content
Bank of Canada officials recused themselves from a discussion about real return bonds by the group, which includes representatives from Toronto-Dominion Bank, Bank of Nova Scotia, Canadian Imperial Bank of Commerce, Bank of America, HOOPP and Canadian National Railway Co.'s investing division. Those who took part said they "disagreed with the government's reasons" for ending the program, according to minutes of the group's most recent meeting, on Nov. 29, were posted on the Bank of Canada's website Dec. 16.
Article content
They said inflation-linked bonds "are a very important asset class that serves a crucial role in allowing Canadian investors to manage their exposure to inflation and, in a well-functioning market, provides central banks and markets participants with an important measure of inflation expectations."
Moreover, the decision to eliminate new real return bond issuance deprived market participants of a way to express their inflation views, with some members indicating the decision "may create a perception that the government may not have full confidence in containing inflation," the group said.
• Email: bshecter@postmedia.com | Twitter: BatPost


[ad_2]

Source link