[ad_1]

(Bloomberg) — Sign up for the New Economy Daily newsletter, follow us @economics and subscribe to our podcast.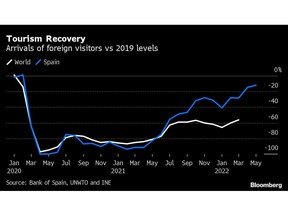 Article content
(Bloomberg) — Sign up for the New Economy Daily newsletter, follow us @economics and subscribe to our podcast.
Article content
Undeterred by European airport chaos and double-digit inflation, visitors are flocking back to Spain's sun-drenched beaches in near-record numbers. 
So much so that tourism, which represents about 13% of the euro zone's fourth-largest economy, is on track to fully recover a year earlier than expected. That would lift prospects for the nation which faced the region's deepest contraction when the pandemic struck in 2020. 
"Tourism has exceeded the best of expectations — until recently it was difficult to think we could have returned to 2019 levels," Carlos Cuerpo, head of the Spanish Treasury, said in an interview. "Beyond a growth revision, what's important is the positive expectations we are seeing." 
Cuerpo reckons that the strength of the tourism upturn in the first summer without health restrictions could raise growth expectations for the year as a whole. That would help repair the damage from the travel slump in a country that, in the year before the pandemic, notched up by far the most nights spent by international guests in the region. 
Article content
The upswing enjoyed by Spain is likely to play out across southern Europe, where tourism is a significant driver of growth and employment, particularly in destinations such as Greece and Portugal.
That would be a source of good news at a grim moment for the continent's economy, as the danger of a recession looms if Russia cuts off gas supplies. 
Spain's tourism frenzy suggests that for now, visitors are shrugging off inflation that is near a four-decade high in the country. 
Restaurants and hotels there are hiring. Employment was already at pre-pandemic levels in June, according to tourism industry group Exceltur, which predicts the sector will generate 152 billion euros ($154 billion) in income this year. That would nearly match the record set in 2019.
Article content
So far, flight cancellations and cabin crew strikes across Europe haven't dented demand either. 
"These problems at airports and airline strikes have inflicted some harm temporarily, but in general all the prospects are that the summer is going to be a good one," said Alberto Urtasun, head of the Bank of Spain's economic forecasting division. 
High-frequency data such as flight and hotel reservations signal the tourism sector could be close to recover pre-pandemic levels this year, Urtasun said. That would be earlier than the bank's original forecast for 2023.
Some analysts warn that the boom may fade once energy shortages and high consumer prices curb savings accumulated during the pandemic. Consumer confidence in Europe dropped to near record lows in June. 
"This summer economic fundamentals are overshadowed by the desire to go on vacation at any cost," said Maria Romero Painagua, chief economist with Madrid-based consultancy Afi. "Those fundamentals will resurface once the summer ends and consumers cut spending."
[ad_2]

Source link