[ad_1]

With Elon Musk tied up at Twitter, Tom Zhu is now responsible for global automotive production, sales and service.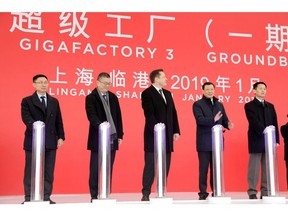 Article content
(Bloomberg) — In a Twitter photo celebrating Tesla Inc. producing 3,000 Model Ys a week at its Texas factory last month, Zhu Xiaotong, who goes by Tom Zhu, stood smiling to the left of the large crowd in a hi-visibility vest and black cap imprinted with a white "T" for Tesla.
Article content
Zhu, who spearheaded the US carmaker's Asia Pacific operations and oversaw Tesla's factory in Shanghai become its most productive in the world, was brought over to Austin late last year to help run the company's newest plant. Although Tesla hasn't made any formal announcement and has yet to name him as an executive officer, it's understood Zhu is now overseeing global automotive production, sales and service, a level of responsibility arguably second only to Chief Executive Officer Elon Musk.
Article content
So who is Zhu, whose role is all the more important in light of Musk's preoccupation with Twitter Inc. and shareholder demands for more transparency about who's next in line after Musk?
Born in China and also reportedly holding a New Zealand passport, Zhu joined Tesla in early 2014 to help build out its Supercharger network. Prior to that, he helped found an international engineering consultancy that offered services to Chinese contractors wanting to expand overseas. He holds a Bachelor's degree of commerce in information technology from Auckland University of Technology and later graduated from the MBA program at Duke University's Fuqua School of Business.
Article content
Zhu rose through Tesla's ranks quickly, becoming manager of China operations by the end of his first year. Under his purview, Tesla's Shanghai factory — the company's first outside the US — materialized at breakneck speed, going from a muddy field to gleaming facility producing electric cars in under 12 months. Before mass production even started at the end of 2019, Zhu had been promoted to global vice president and president of Greater China.
In July of last year, he was elevated further to oversee all of Tesla Asia Pacific as the automaker expanded in Thailand, Hong Kong and Singapore. Zhu's China team also won praise from Musk for "burning the 3 a.m. oil" as they worked around the clock to keep the Shanghai factory operating during the city's Covid lockdowns. During what was an extraordinarily difficult last 12 months, the plant underwent upgrades to boost production capacity to 1 million EVs a year.
Article content
The more than 710,000 cars Tesla made in China last year was around 52% of the company's worldwide output. Zhu's work ethic was on full display during the lockdown — he stayed in the plant when movement restrictions were first introduced, sleeping in the factory with a handful of security staff who made sure the facility wasn't breached. He remained during the entire two months that Tesla ran a closed-loop production system with workers brought back to operate in a bubble environment that sealed them off from the outside world.
The few YouTube videos and local language media reports that Zhu appears in show him to be wholly committed to Tesla, even down to his attire — he's almost always dressed in a Tesla-branded fleece. He's lived in a two-bedroom, government-subsidized rental apartment about a 10-minute drive from the factory that costs less than 2,000 yuan ($300) a month. Most of his family lives in Beijing, some 1,200 kilometers (750 miles) away.
Article content
In an interview with Chinese media last year, Zhu said he typically starts his work day around 6 a.m. to catch his North American colleagues before they log off for the evening. He then travels to the factory, sometimes car pooling with other employees who live in the same complex. "It's a great atmosphere," Zhu said. "Say, you help me get my parcel, I get something for you. It's a good way of working and living."
Once at the factory, Zhu said he spends time walking the production lines of the various workshops and talking with engineers to solve technical issues. "In our company, most of the things you do it with your hands on it, get your hands dirty," he said, explaining why he mostly wears hi-vis jackets and a safety helmet. In the nearby office, Zhu shared an open space at standing desks with many others, including production director Song Gang. He was often spotted there well beyond midnight.
Article content
Several current and former Tesla China employees describe Zhu as pragmatic and responsive, noting that he tends to reply to emails and messages promptly and at all hours of the day. In an interview with Duke's Fuqua School, Zhu described himself as "tenacious." He recounts the story of how, after the Shanghai factory's construction, an intense storm and water-drainage problem threatened to collapse a section of the roof. Zhu and around 30 other staff, from new hires to senior employees, grabbed plastic buckets and went up on the roof in the driving rain to "safeguard our property."
"The company's culture is not to waste resources and time on those fancy and nonsense things," Zhu said in a recent and rare video interview with PCAuto, a local car-review website. "Focus your main energy and resources into what really matters. We don't have a huge administrative organization here to service the management. Book tickets by yourself, grab your food by yourself. Everybody is very used to it, this is an expression of true equality, right?"
Article content
Zhu has eschewed the limelight, hurrying off from public appearances at the Shanghai factory, such as the handoff of keys to initial Model 3 owners in December 2019.
He does, however, communicate frequently with Musk, who made his last visit to China in 2019, prior to Covid. During an earnings call in April of that year, Musk said progress at the Shanghai factory was "testament to the outstanding execution of our team on the ground there. I get daily emails with a dozen pictures from one day to the next from Tom Zhu, who leads the Gigafactory program."
And in true egalitarian fashion, Zhu has said everyone can contact the big man at the top, too. "Of course, in China it's not only me who can communicate with Elon," Zhu said in the recent interview. "Actually all of our employees, you can randomly ask any in this factory, how to contact Elon. They all know Elon's email and can directly reply to him."
[ad_2]

Source link