[ad_1]

It tastes awful, but it works. Let's just hope the side effects are minimal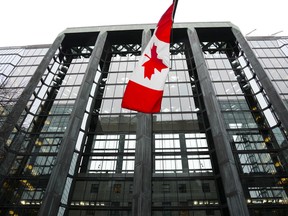 Article content
The economy is slowing. Housing prices are in free fall. Many fear a recession next year. Consumer price growth is easing. Yet the Bank of Canada is still raising interest rates aggressively, with last week's half-point hike the sixth successive outsized move. Average people are wondering if it's necessary, whether prior rate increases were enough. Why the heavy foot on the brake pedal?
Article content
I'm part of a dying species — the generation that actually experienced our last inflationary bout. As kids in grade school, we talked about sky-high oil prices, food shortages, running out of this and that, out-of-control inflation and leaders madly scrambling for solutions. The 1970s spilled into the 1980s, and despite much effort, the inflation beast remained untamed.
Article content
Like today, prices back then were pretty tame for over a decade before inflation hit in the early 1970s. At that point, prices accelerated rapidly due to sustained strong demand, and vaulted into double-digits with the oil price shocks. The impact was quite sudden, and took a long time to subside. This time around, a 31-year run of programmed price stability was not enough to counter a sharp run up in prices.
Article content
Why? Well, it began with specific prices. The pandemic interrupted a finely tuned, pan-global logistics network by hitting different countries at different times. It wasn't initially a problem, as global consumption also fell. But when the economy started firing again, many products simply couldn't keep pace — think energy, other commodities and semiconductors. The Russia-Ukraine conflict further constrained energy supply while adding food to the mix.
Initially, central banks waved it off, expecting that bottlenecks would be temporary and that prices would soon calm down. Clearly, that didn't happen. In fact, as the weeks passed, inflation's reach rapidly spread to a much wider range of goods and services; it was no longer just the volatile, non-core elements of the price indexes that were misbehaving. It gets particularly complicated when goods that are used in just about everything are in short supply. Back in the 70s, the high intensity of oil use in the economy saw energy price increases spread everywhere. Intensity is much lower now, so oil isn't as influential as before. But what about semiconductors? They may be a small part of the cost of final products, but they are in just about everything. Cut off the supply, and suddenly shortages are widespread.
Article content
At that point, a more generalized inflation is almost unavoidable and reining things in becomes a lot more complicated. Shortages, real or rumoured, create a rush of extra demand and a willingness to pay the asking price. Suddenly, price sensitivity isn't as great and prices are determined by what the market will bear. This is where price expectations, anchored for decades, become unhinged. And if there happens to be ample liquidity in the economy — low interest rates and quantitative easing assured that — then there's even less to restrain price growth.
Article content
Enter the moral dilemma: if goods and services are perceived to be in short supply, and buyers are willing to pay whatever just to get what they need, profit-maximizing sellers can get opportunistic. Regardless of whether shortages are real, if consumers and businesses are prepared to pay 15-20 per cent more … well, why not?
It doesn't stop here. With prices riding well ahead of wages, employees at all levels get antsy — especially at annual review time. Given record-low unemployment and our current paucity of skilled workers, businesses aren't in a strong bargaining position. Fail to meet expectations, and turnover could soar. Meet expectations, and you could be out of business. One way or another, a jump in wage growth is almost impossible to resist. That's when demand-pull inflation turns into cost-push inflation — a much harder beast to tame, as wage-price spirals can set in.
The dynamics of pricing haven't changed over time. But we haven't seen them for so long that we likely forgot how they work: that it's not so much prices, but price expectations, that matter. And that reining them in requires heavy monetary medicine. It tastes awful, but it works. Let's just hope the side effects are minimal.
Peter Hall is chief executive of Econosphere Inc. and a former chief economist at Export Development Canada.
[ad_2]

Source link